We do not market annuities or insurance, list real estate or businesses. We may, with client request or permission, refer to those who do.
by Insured Grace Contract

Simplified Estate Asset Plans

LegacyChange.com Home

Save Tax

Insured-Economical-Efficient

Flexible Asset Transfer

Through a Non-Profit Asset

Transfer Organization
What is a LegacyChangePlan? A Special Beneficiaries Guaranteed Income Plan for Most Assets Enhance Estate Plan

Economical and flexible life and after estate plans. Can replace assets economically and simplified in lieu of maintaining assets in an expensive and time consuming trust or will. Each individual's personal LegacyChange Plan can involve a simple transfer of assets such as Securities, Annuities, Real Estate or Cash to a 501(c)3 non-profit foundation in exchange immediate and future tax reduction plus a guaranteed income for life or set number of years. Because there is a 501(c)3 non-profit foundation there is an immediate income tax deduction, capital gains tax reduction, depreciation recapture tax reduction plus estate tax reduction and stealth tax bracket reduction are potentially relieved for owners and beneficiaries.

A Grace (Benevolence) Guaranteed Contract for Assets

Immediate Tax Reduction Saves Taxes, Time and Expense

Guaranteed & Insured Income for Proceeds & Contributions

Manages Inheritance for Heirs & Beneficiaries as You Wish

Prevent Inheritance Disagreements and Minimize Family Conflicts

Avoid Probate Expense & Time while Maintaining Confidentiality

Ideal Retirement Simplified Managed Process

Experienced & Proven Planning Provides Legacy

LegacyChangePlans (Grace or Benevolence Contract)

&

&

&

&

Minimize Conflict Plan

&

Divorce Settlement Plan

&

Family Farm Plan

Reduce Tax

Plus Guaranteed & Insured Income

&

Summarized Check List for

Trustee & Will Executor Responsibility

&

&

&

&

Special Needs Loved One Plan

&

Free Consultation
Assure Moving Assets In Your Estate To Your Loved Ones,
Beneficiaries or Gift For Your Legacy without Inheritance Conflict
Maintain Efficient Guaranteed Income and Wealth from Assets
A LegacyChange Plan is a Preferred Method for Estate Planning
Efficient Asset Money Management
A Convenient Economical Special Beneficiaries Estate Plan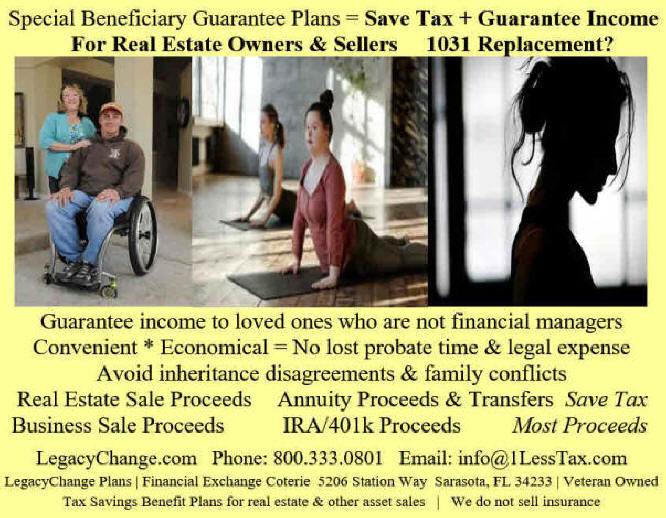 Go Here To Page To REGISTER For More Detail, Internet Informational Live Video
and/or Audio Dates & Times or Free CPA Consultation
&
Assisting to Preserve and Maintain Client Wealth

LegacyPlan

Basics
Grace or charitable bargain sale with installment contract (reinsured).
LegacyPlan acquires asset (by option contract)
LegacyPlan divests (sells) with non-profit tax advantages.
LegacyPlan pays seller with an insured installment contract.
Split interest transaction (multiple interest beneficiaries for non-profit)
&
Receive LegacyChange News and Updates Subscribe Here
More Tax Saving Alternatives at www.1LessTax.com See Page 3
Tax Reduction Service E-mail: info@1LessTax.com National: 800.333.0801